How To Prepare Concrete Driveways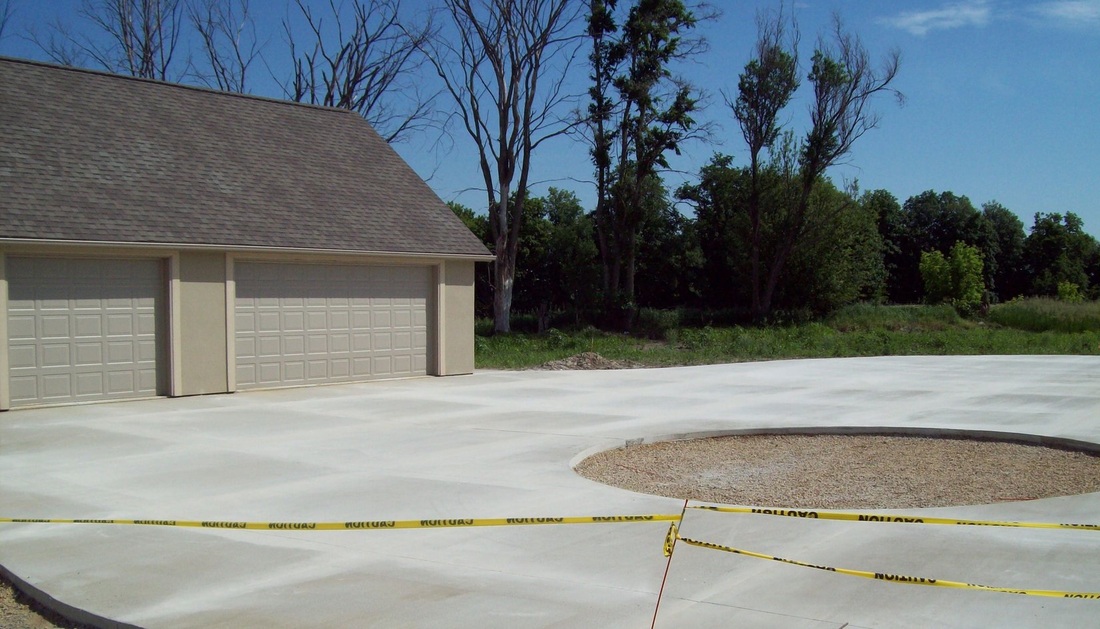 A concrete driveway can be a great addition to your home. It is durable, low-maintenance, affordable, and adds curb appeal. But before you get started on the project, there are some essential things that you need to know about prep work.   
Concrete driveways have been around for decades because of their durability and longevity. They are also cost-effective, with minimum upkeep required once they are correctly installed. However, if the concrete is not laid perfectly, it will crack or break over time due to weathering or structural shifts in the ground beneath it.  
That's why preparation is so vital when laying a new concrete driveway – ensuring that all sub-surface materials are stable enough for this heavy load without settling or shifting underneath it.  
If you're ready to get your hands dirty, make sure you have all the right tools and materials before you go ahead with the project.  Tools and supplies needed for the job include:  
Tools:   
Wheelbarrow 

 

Shovels  

 

Rakes 

 

Damp sponge 

Mixer 

 

Water hose 

 
Supplies:  
 
Cement mix (water included),  

 

Gravel  

Water 

 
Steps to prepping and building your concrete project
First comes buying cement from a hardware store or other Los Angeles wholesalers. You'll also need gravel underneath, a flat board for smoothing out the cement mixture, a bucket for mixing, and a wheelbarrow to pour it in. Make sure you have all of these items before you begin because once the cement starts to set, it's harder to break up the surface without damaging it or your tools.  
You want to make sure that when your materials are delivered, your concrete needs are all there and that nothing is broken. This will help to make sure your final surface stays smooth instead of bumpy or lumpy. Once you're done laying down the gravel, it's time to start pouring cement mixture over the whole surface right where you want it. You'll use your flat board for this process.   
Make sure that the final concrete construction result is nice and smooth. If there are small lumps or bumps, those can come from tiny air bubbles that have been trapped in the mix as they dried and hardened. It would help if you used a trowel or screwdriver to chip them out.  
Once you're done with the smoothing process, let the existing concrete set overnight. The next day you'll need to add another layer. This will make your surface nice and solid, but you'll still want to let it sit even longer. Once that's done, you're finished with the concrete works! You can use your concrete driveway or pathway for getting around or driving on in any weather condition without worrying about damage.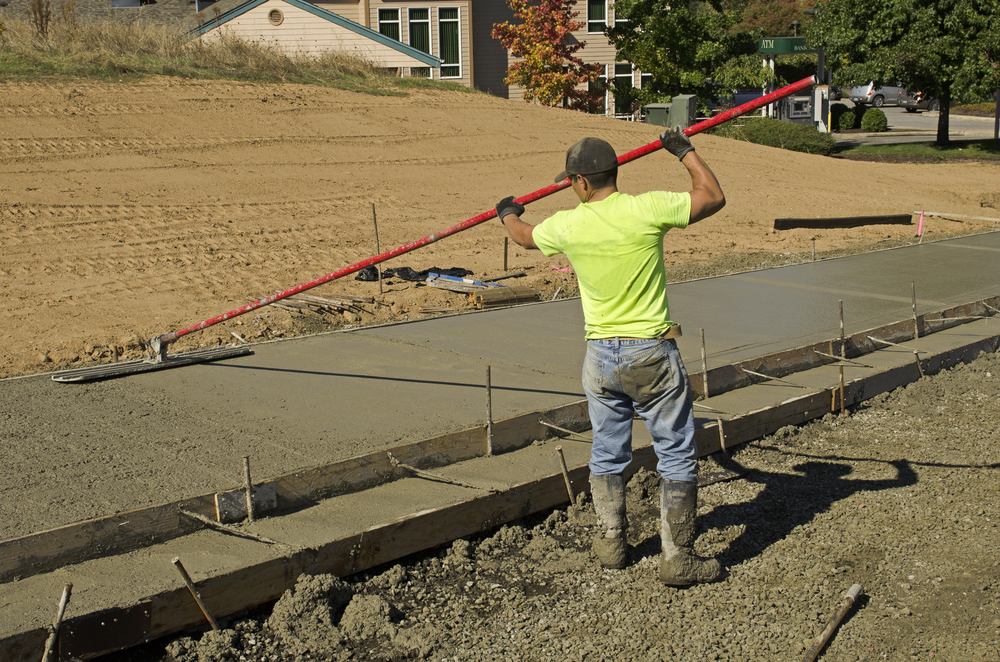 Cement cracks
Since the cement is like a rock in its consistency and hardness, cracks can form over time. This is very typical and also to be expected when using cement in your concrete repair. Cracks may seem like an oversight or mistake, but they might be adding character and charm to your piece.  
Hairline cement crack effects are merely the nature of this material's makeup, and they likely aren't going to cause too many problems in the concrete work.  
You'll find that more minor cracks and hairline fractures will gradually develop over time as the cement dries and hardens and can even freeze and thaw. This is one of those unpredictable occurrences you cannot prevent or change; all you can do is make sure they don't spread or worsen over time.   
If there are more significant cracks in your surface area that you don't like and want to get rid of, you'll need to make your patching mixture for repairing them. To do this process, mix cement, sand or gravel, and some water until you have a gooey consistency. You can then use a trowel or putty knife to spread it over the crack and give it a nice, smooth finish. You'll need to let this dry for several days before using your driveway again, but it should be fine afterward.  
For larger cracks that are very deep, or you can see some of the gravel underneath them, you might not want to go through the whole process of making cement mix and troweling it on. Instead, you can use sealant or grout to patch these types of cracks. You'll need the same materials as the cement mix except for the gravel, and then just spread it on top of your existing patching material. Let this dry for several days before using your driveway again, just like with the other method. 
DIY alternatives

 

 
It's a relatively straightforward process, but it's long and arduous. There is an alternative for those with less desire to work or those who don't have the time: hiring a concrete construction professional service to do it for them. These quality services can easily be found on the internet, as several Los Angeles concrete contractors specialize in prepping and pouring concrete for driveways. Not only is the process much more straightforward, but it is also done much faster than doing it on your own.  
Another option is pre-made driveways. These driveways can often be purchased at a low price online, and you need to install them yourself. Just unroll the driveway and place any borders if applicable. Fill with gravel and sand for a flat surface and flatten out the base before letting it dry. The hardest part about installing it yourself is simply leveling off the ground underneath where you will lay the concrete down. This can be done with some boards or other items that are found around your property that can help you scoop away excess dirt/sand/gravel until your driveway level is flat enough.  
Go with professional Los Angeles concrete contractors

 
If you don't want the hassles of a DIY driveway project, hiring a professional concrete company is a great idea. These concrete experts can give you the perfect prepped and poured driveway, removing any concerns or time that might be required with other methods. Not only is it easy, but it's also quick, so you won't have to wait around for days on end before seeing results on the concrete projects. 
What to look for in the best

 

Los Angeles

 

concrete contractors?

 
Someone with vast experience and knowledge about the materials used to construct a driveway, how it should be built, and what type of driveway could be best for your property. 

 

A concrete company that provides a written estimate with their pricing, as well as details about the construction project. 

 

A Los Angeles concrete contractor that offers a warranty for its quality and materials requires its employees to be insured and bonded. 

 

A Los Angeles concrete contractor that is licensed and insured for your protection.  

 

A concrete driveway contractor with a proven track record of satisfied customers. 

 
Final thoughts

 

 
There are many reasons to choose concrete as your driveway material, other concrete surfaces, and outdoor spaces. It's cost-effective, offers a lifetime of use, and has minimal upkeep requirements. But if the concrete is not laid correctly, it can crack or break over time due to weathering or structural shifts in the ground beneath it.   
LAX Concrete Contractors offer quality concrete services for all of our customers' needs, so you don't have to worry about any problems down the line.  
We're available on call Mon – Fri: 8 am to 6 pm, and we'll be happy to come out and give you free quotes! Give us a call today at (213) 340-1509. 
Concrete Driveway Repair - How to Make It Look Like New We all want our homes to look as good as possible. We can make our home more attractive by repairing, or better yet, replacing a concrete driveway. You may think that you cannot afford it right now because the...